The Group's Annual Report on Cash Dividends of QSE Listed Companies in 2018
<![if !vml]>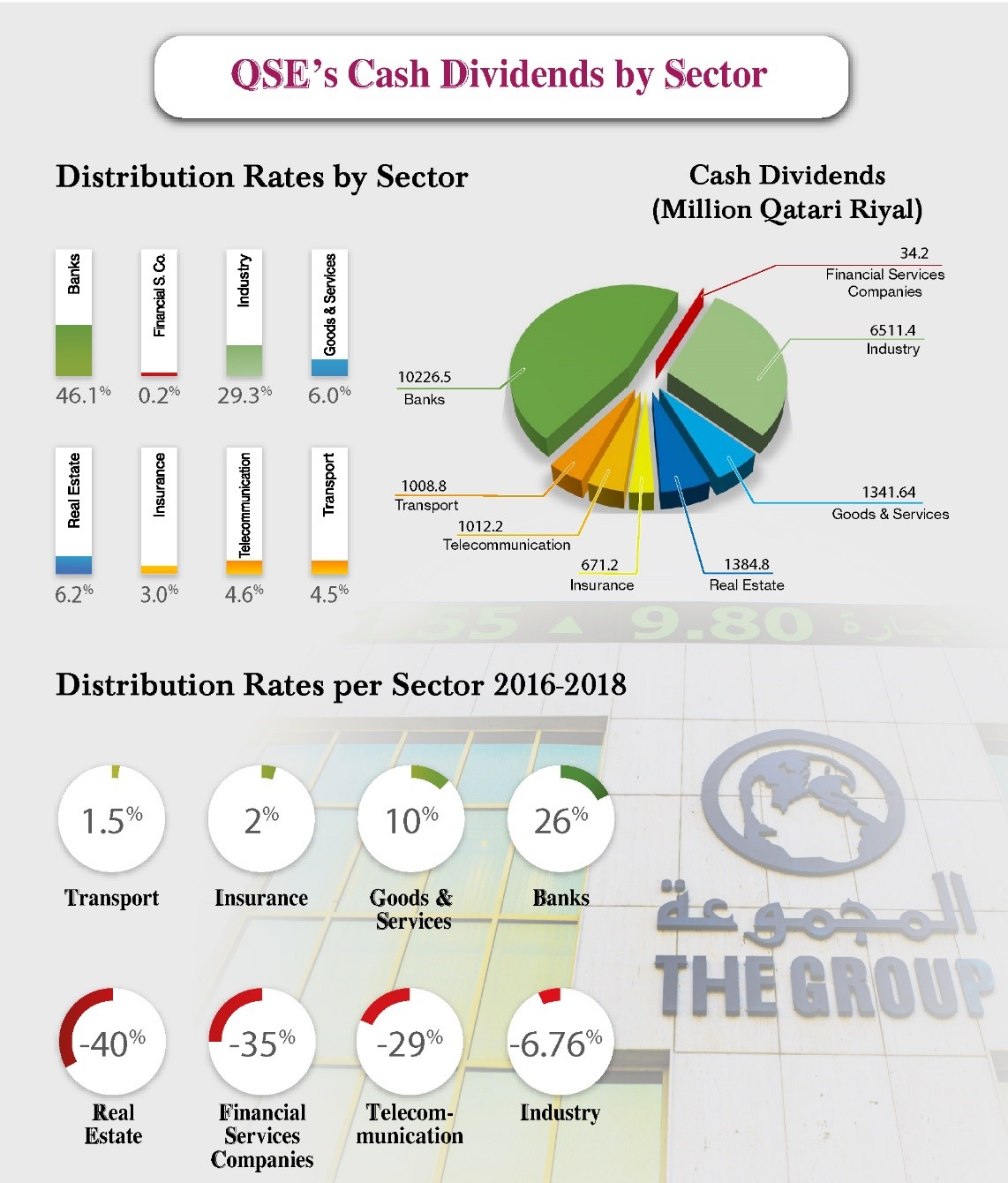 <![endif]>
04 April 2019
The Group has issued its annual report on the yearly dividends of the companies listed on the Qatar Stock Exchange for the year 2018. The report shows that out of 45 listed companies, 35 have announced dividend distributions for the year 2018 (excluding QAMCO). The average cash yield amounted to 4.24% for all listed companies, and about 4.91% when companies that did not announce any cash dividends are excluded.
The total cash dividends amounted to QR 22.2 billion, of which the largest share of QR 10.22 billion was distributed by the banking sector, i.e. 46% of the total allocations. The industrial sector accounted for 30% of the distributions at a total of QR 6.5 billion, followed by Real Estate with a total of QR 1.4 billion, or about 6%.
In terms of dividend yield (the figure obtained by dividing the annual dividend price by the market price of the share), the average of the banking sector amounted to about 4.50%, led by Al Khaliji Commercial Bank, with a return of 6.52%, while Qatar National Bank ranked last with a return of 3.14%. The Industrial Sector recorded an overall average return of 4.40%, with Qatar Cement achieving the highest yield in the sector at 7.06%, whereas Qatari Investors made the lowest yield at 2.79%. It should be noted that Gulf International Services Co. did not announce any dividends.
As for the Real Estate sector, the average return was 4.80%, Transportation sat at 4.60%, and Services & Consumer Goods recorded a 4.17% return. The Insurance sector saw an average return of 4.53%, while the sector of Financial Services came in at 2.63%.
In terms of growth of distributions for the last three years (2018-2016), the Banking sector came in the forefront with a growth rate of about 26%, followed by Services & Consumer Goods by 11%.